Fair Weather Dog Training Club
Welcome to obedience training classes in Oxfordshire.
We run classes for Puppies and adult dogs of any age or breed, pedigree or cross breeds
Would you like to turn your dog from this to this?
With our help, turn your dog from a disobedient, out of control dog into a happy, well balanced and obedient one.
We can teach you how to walk your dog on a loose lead, come back when called, etc using kind, positive reinforcement methods using the Clicker method of training.
---
---
Now lockdown had ended, we are able to continue to hold our usual dog training courses.
The Puppy Socialisation and Basic Obedience and Intermediate/Advanced 6 week courses are every Thursday evening at Arncott village hall. Arncott.:
Puppy Socialisation starts at 6:45pm to 7:30pm

Basic Obedience starts at 7:30pm to 8:15pm

Intermediate/Advanced Obedience starts at 8:15pm to 9:00pm
Covid regulations will still be in place i.e. face masks will need to be worn while in the village hall keeping 2 metre distancing. There will be a maximum of 8 dogs and handlers per class and no spectatord allowed inside the village hall.
If you want to join us please either email Jennie at ockcairns@yahoo.com or telephone her 01869 322996
---
If you are unlucky enough to have missed out on a place on any of the obedience training courses, I am still be able to help you to train your dog using online Zoom sessions for Obedience and Scent Work. With Zoom there is no need to wait for the next courses to start, Zoom means you are able to have one to one training sessions with me, tailored to suit you and your dogs needs. You don't need to wait until your puppy is fully inoculated and can socialise with other dogs as you train at home. We can start their training when ever we want too! So, those of you who have a new puppy, dogs who are beginning to develop bad habits or dogs who are unable to socialise with other dogs for one reason or another, you can start their training NOW in the comfort of your own home!
I will be following the Kennel Club Good Citizen Scheme for obedience training so that you will be on your way for a happy, obedience dog. There are several advantages to online training:
You do not have to get in the car and drive to the venue so saving on your time and petrol.

If your dog doesn't like other dogs, there won't be any for it to worry about and there will no other dogs to distract your dog during training

if you have just got a new puppy you can start training before it is allowed to meet up with other dogs.

As I do not have any overhead costs I am able to offer these course at a reduced price.
The way Zoom works is that once you have signed up to a course and provided you have either use of a computer, smart phone or tablet that has video and a microphone, I will send you an invitation with a link and password to attend the meeting. It is very much like our usual training sessions in that you and I can see, speak, and hear each other, so I can demonstrate various techniques to you and then watch you practicing with your dog and I am able to help when there is a need. These are one to one sessions and and at a date and time convenient to us both. You can try one Zoom session for £10 which would be for 30 minutes or a short 3 week course lasting for 45 minutes per session for £30.
Places do have to be pre-booked so please contact Jennie email ockcairns@yahoo.com for a Booking form. Payment is due before the course starts.
---
Is your dog 6 months or older and is a ' Pain ' to walk?
Does it come back when called?
Does it ignore you when off lead?
If the answer to any of these questions is YES then the new 6 week Basic Obedience course will be just what you need!
All training is based on The Kennel Club Good Citizen Dog Scheme and only uses kind positive methods of training.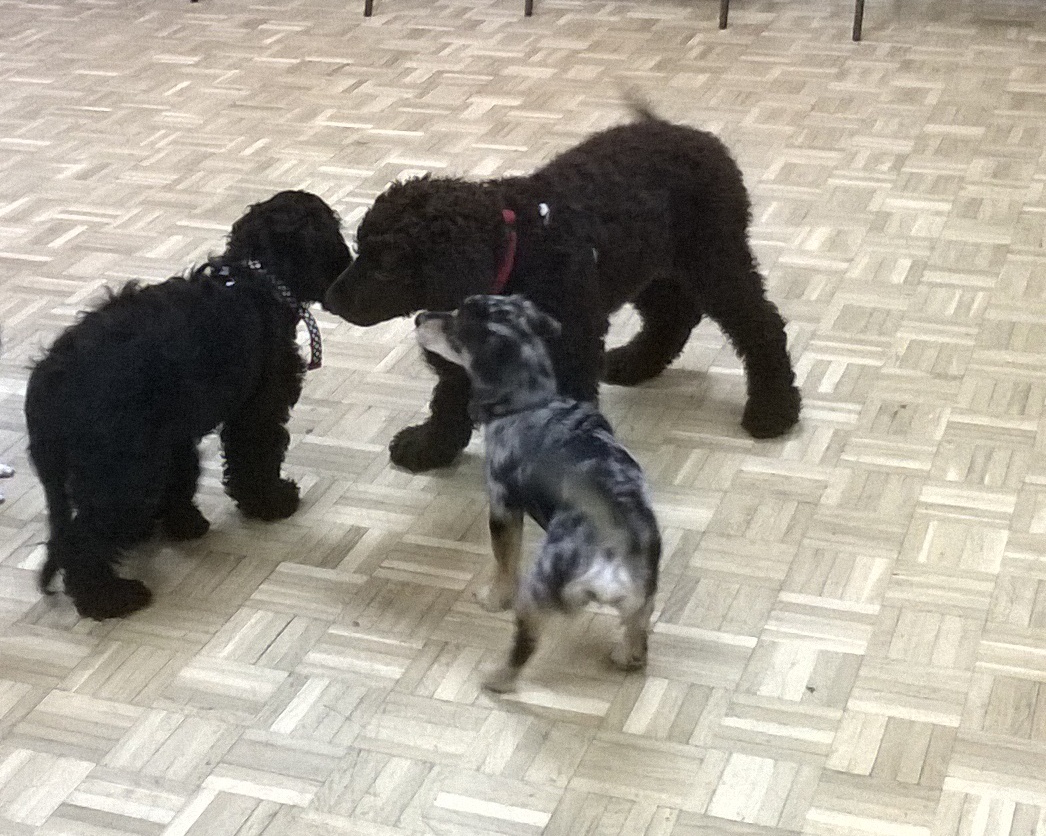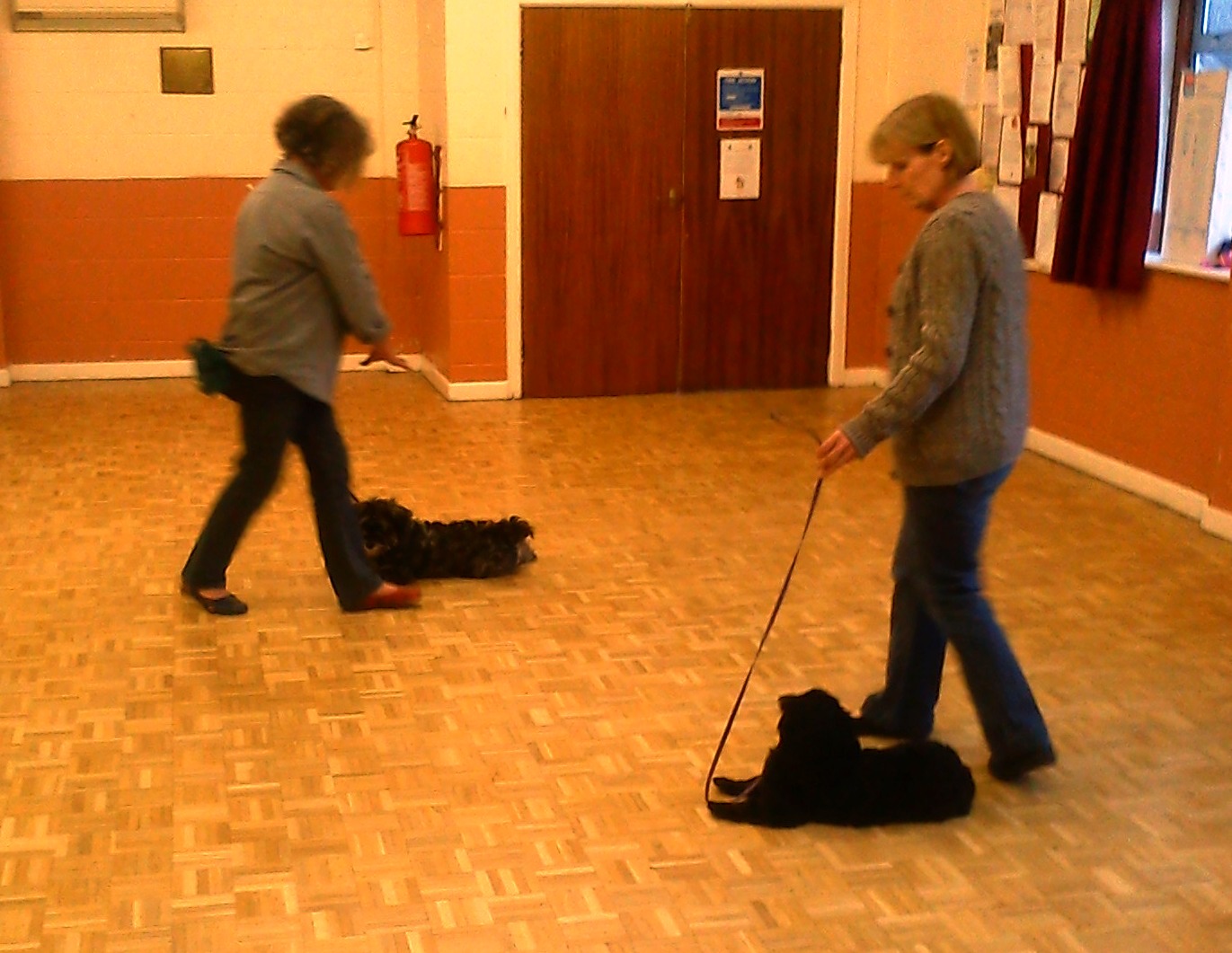 Starting date: 13th January 2022
Venue: Arncott village hall, Upper Arncott, Bicester
Time: 7 pm for the puppy class, 8 pm for the basic Obedience class.
Price: on application.
Please email ockcairns@yahoo.com or telephone Jennie on 01869 322996 to reserve a place on the courses or for a booking form as classes are limited .
---
Training consists of socialising your dog with people and dogs, walking on a loose lead, coming to you when called, to be able to sit, lie down and stand when told to, to stay put in the sit, down and stand positions. We teach you Clicker Training which is a very powerful, motivating and kind way to train your dog. As the dogs progress we introduce other new things e.g. heel work to music, scent discrimination, send away, retrieve an article, etc. and generally have fun. All courses run for 8 weeks.
We train every Thursday evening from 6:45 pm to 9 pm in Arncott Village Hall, Arncott, near Bicester, Oxfordshire OX25 1PL. Map to Arncott village hall. for the following classes:
There are four different classes:
| | |
| --- | --- |
| | The Puppy Foundation Assessment class. This is for puppies from as soon as they can socialise with other dogs to those aged less than 5 months. We help you to teach your puppy to come when called, socialise with other dogs and people, sit, stand and down positions, walk on a loose lead and basic stay command. There are no tests in this course and at the end of the course and provided the Trainer is sure that your dog has reached the appropriate standard laid down by the Kennel Club, your dog will get a Kennel Club Good Citizen certificate and a rosette. |
| | The Basic Obedience class is for dogs over 5 months of age. In this class we teach basic obedience, how to sit, stand, go down, stay, walk on a loose lead, etc. At the end of the course, dogs are tested by an approved Kennel Club Judge for the Kennel Club Good Citizen Bronze Award. Your dog does not have to have been on the puppy course to start in this one. Your dog needs to have completed this course before it can start in the Intermediate Course. |
| | The Intermediate/Advanced class for those dogs who have all ready passed the Kennel Club Bronze or Silver Award. In this class we build up on that learnt in the Bronze class. They learn to walk off lead by your side, do a 2 minute down or sit stay with 30 seconds out of sight of the handler (for the Advanced dogs), how to retrieve an article, distance control, send away (go to bed), etc. At the end of the course, dogs are tested for either the Silver or Gold Kennel Club Good Citizen Award. |
Please email ockcairns@yahoo.com or telephone Jennie on 01869 322996 to reserve a place on any of the courses as numbers are limited to 10 dogs and handlers. Please click on the link below to download a leaflet for further information on the courses and for a booking form.
---
* Why not buy someone an obedience course as a gift for their birthday or as a Christmas present? *

Please contact Jennie for further information

---

Home visits: due to the Covid19 restrictions I am not able to do any home visits at the moment but can do a Zoom meeting with you as a one to one?

---

If you need more information about any of the courses please use this link to the Kennel Club, The Kennel Club Good Citizen Award Scheme , download one of the club leaflets from this site or send me an email: e-mail Jennie or phone me on 01869 322996

You are visitor number Updated 24/04/2022